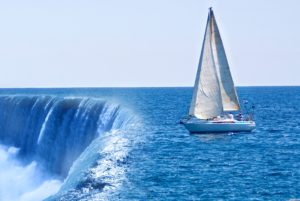 The Gospel is Good News
The Gospel is Good News because it reveals hidden victory in the face of visible trouble.  I could tell you that the future is going to be bright, but it isn't.  Trouble is on the horizon.  The Gospel gives us hope where no hope can be found naturally.  People do not want bad news.  They desperately need and want good news.  But the kind of good news they want is not coming.  In fact, the trust people put in earthly comfort is about to be shaken.  It is already shaking but a storm of unimaginable ferocity is coming.  The church is the temple God provides for safety in the storm.  The church that forms the temple is not a physical building.  It is the community of those who believe and worship Christ Jesus.  Those who have faith in Jesus have Good News.  News that gives them hope for a future.   Those who do not know Christ are about to be thrown into a panic.  There is no need for panic, but those who lack understanding will not be consolable.  I encourage you to come hear the Word
You Are Welcome Here
I cannot tell you how glad I am when you come as my guest.  The thing I desire most during your visit, is that you feel welcome.
Depending on your background you may find Abundant Life Family Church to be a little different.  I hope that you like what you see.  Abundant Life is a family that strives to impact the lives of those who come here.  Young people are a vital part of our fellowship.  They serve on our board, work our sound booth, and serve in about every way you can think of.  The music may be a little loud but I hope that our love is louder.
I strive to reveal the true nature of our Father God in my messages.  I do my best to hear what the Holy Spirit wants to say to us each week.  I believe the tenderness, grace and mercy revealed by Jesus is the true reflection of God.  He is not mad and wants to bless His children.  God loves you and wants to help you, not burden you with a list of commands that you can never keep.  I believe in a Good News Gospel.
Not only is God's love and acceptance good news, but the power He makes available to you is good news.  The most damaging concept of God that I know of is the idea that we are helpless and must wait on Him.  We are not powerless.  God has filled us with His power and has given us the duty of exercising His authority on earth.  God is the one being patient.  He waits on us.  He searches for hearts ready to believe and act on His promises.  The greatest revelation is not what God will do for you, but what He has already done.  Have you ever had to hunt for a set of keys to your car only to find them in your pocket?  Well the power of God is already in your heart and I want to help you find it.  The answers you need have been there the whole time.  I want to help you go on the greatest treasure hunt of your life.  God wants you to be blessed!
Doug Brunelll, pastor
© 2018, All Rights Reserved